New Tehri, located in the Tehri-Garhwal district, is a contemporary town that serves as the district headquarters. It has emerged as a vibrant hub for adventure tourism. Situated overlooking the colossal Tehri Lake and dam, this well-designed town attracts numerous tourists who seek to immerse themselves in its natural beauty and indulge in a wide range of water sports on the lake. The Tehri dam, standing tall on the Bhagirathi river, is not only the highest of its kind in India but also recognized as one of the largest hydroelectric projects in the world.
Previously known as Tehri (now referred to as Old Tehri), this town was a quaint settlement located at the meeting point of the Bhagirathi and Bhilangna rivers in Uttarakhand. It served as the capital of the former kingdom of Garhwal. However, with the construction of the Tehri dam, the town was submerged under the newly formed lake, and its residents were relocated to the present-day New Tehri.
Perched atop a hill, New Tehri offers a serene atmosphere akin to a hill station. Surrounded by picturesque temples, lush forests, and majestic peaks of the Himalayas, it is an ideal destination for a vacation. Throughout the year, various adventure events take place here, with the most popular being the [mention specific adventure event if available]. Additionally, visitors can opt for a unique accommodation experience by booking one of the floating huts on the lake, providing an opportunity to enjoy a stay amidst the tranquil waters.
As for the best time to visit New Tehri, the town enjoys pleasant weather year-round. However, the ideal periods are from April to June and October to December when the region experiences snowfall.
A Modern Marvel: New Tehri stands as a testament to modern urban planning and development. Built after the old Tehri town was submerged due to the construction of the Tehri Dam, the new town was meticulously designed to accommodate the displaced population. Its well-planned layout, wide roads, and modern amenities make it a unique destination in the region.
Tehri Dam and Tehri Lake: The Tehri Dam, one of the world's tallest dams, is a remarkable engineering marvel. The construction of this hydroelectric project led to the formation of the Tehri Lake, which stretches over an area of 42 square kilometers. Visitors can enjoy a boat ride on the lake, surrounded by the majestic Himalayan peaks and lush greenery.
Adventure Sports: New Tehri is a haven for adventure enthusiasts. The town offers a range of thrilling activities such as paragliding, kayaking, jet skiing, and trekking. Adventure seekers can embark on treks to nearby destinations like Chandrabadni, Surkanda Devi Temple, and Chamba, which offer breathtaking views of the Himalayas.
Spiritual Bliss: New Tehri is not only known for its natural beauty but also for its spiritual significance. The nearby hill stations of Devprayag, Rishikesh, and Haridwar are renowned for their ancient temples, ashrams, and the holy River Ganges. Visitors can indulge in meditation, yoga, and spiritual practices while exploring the serene surroundings.
Local Culture and Festivals: The people of New Tehri take great pride in their rich cultural heritage. The town is inhabited by a mix of Garhwali and Kumaoni communities, who celebrate vibrant festivals like Ganga Dussehra, Makar Sankranti, and Harela. Travelers can witness the colorful folk dances, traditional music, and taste the local cuisine, which adds to the cultural charm of New Tehri.
Ecotourism and Nature Walks: Nature lovers can explore the surrounding forests and indulge in ecotourism activities in New Tehri. The region is home to a variety of flora and fauna, making it an ideal destination for birdwatching and nature walks. The tranquil ambiance and fresh mountain air provide a refreshing experience for those seeking solace in nature.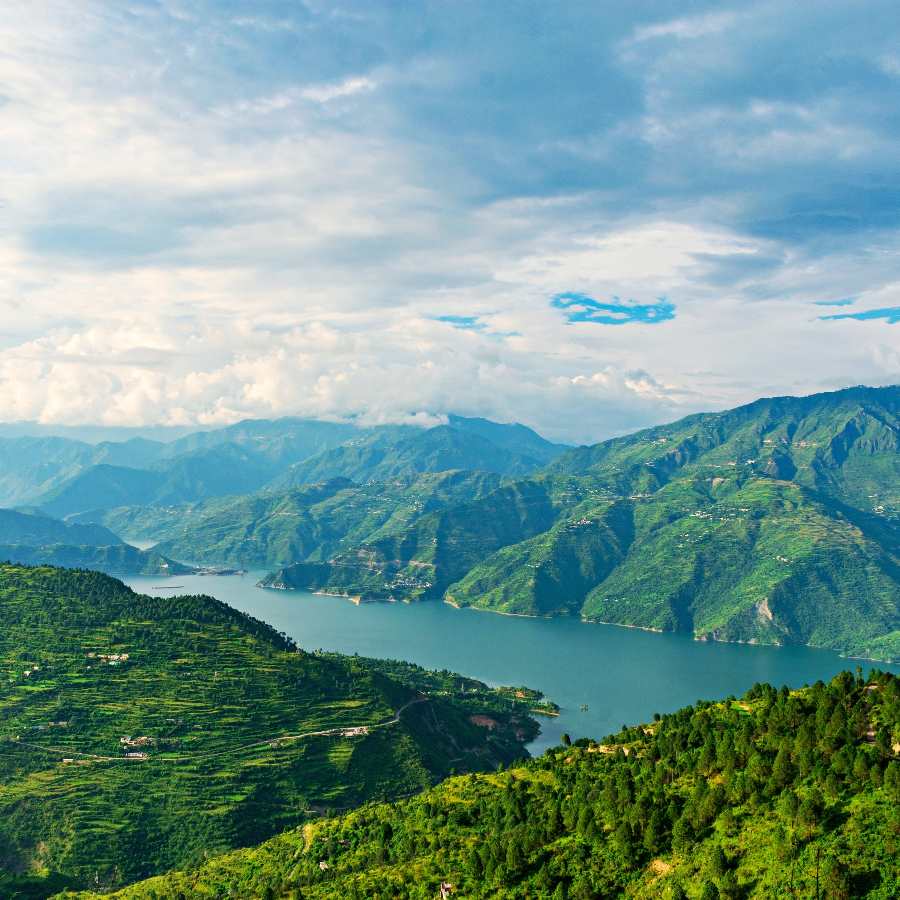 New Tehri is surrounded by several captivating attractions that are worth exploring. Here are some of the main attractions located near New Tehri:
Rishikesh: Situated approximately 70 kilometers from New Tehri, Rishikesh is a renowned spiritual and adventure destination. It is famous for its ashrams, yoga retreats, and the sacred Ganges River. Rishikesh offers opportunities for river rafting, trekking, yoga, and meditation, making it a popular destination for both spiritual seekers and adventure enthusiasts.
Mussoorie: Located around 90 kilometers from New Tehri, Mussoorie is a charming hill station known as the "Queen of the Hills." It offers breathtaking views of the Himalayas and is adorned with lush green hills, cascading waterfalls, and colonial-era architecture. Mussoorie's popular attractions include Kempty Falls, Gun Hill, Lal Tibba, and the Mall Road, which is perfect for shopping and sampling local cuisine.
Chamba: Situated approximately 30 kilometers from New Tehri, Chamba is a scenic hill town nestled amidst the lofty Himalayas. It offers panoramic views of the snow-capped peaks and is renowned for its ancient temples and pristine natural beauty. Chamba is an offbeat destination that provides a peaceful and serene atmosphere away from the crowds.
Kunjapuri: Kunjapuri is a peak on which stands the Kunjapuri temple, which is one of the most revered sites in Tehri district. Not only is the temple very popular, the peak offers panoramic views of Garhwal Himalayan peaks. From here you can see several snow-covered peaks like Swargarohini, Gangotri, Banderpunch and Chaukhamba and also the valley of the Bhagirathi River. In the distance you can glimpses of Rishikesh, Haridwar and even the Doon Valley.
Devprayag: Located about 70 kilometers from New Tehri, Devprayag is a holy town where the rivers Alaknanda and Bhagirathi merge to form the Ganges River. It is considered one of the Panch Prayag (five confluences) of the sacred river. Devprayag is home to ancient temples and is revered as a pilgrimage site for devotees seeking spiritual solace.
Dhanaulti: Situated approximately 80 kilometers from New Tehri, Dhanaulti is a serene hill station known for its tranquil ambiance and panoramic views of the Himalayas. It offers activities like camping, trekking, and nature walks amidst dense forests and verdant meadows. The Eco Park, Surkanda Devi Temple, and Dashavatar Temple are popular attractions in Dhanaulti.
These are just a few of the main attractions located near New Tehri. The region is blessed with natural beauty, spirituality, and adventure, offering a diverse range of experiences for travelers.
To reach New Tehri, you can opt for different modes of transportation depending on your preference and convenience. Here's how you can reach New Tehri by air, train, and road:
By Air: The nearest airport to New Tehri is the Jolly Grant Airport in Dehradun, located approximately 91 kilometers away. From the airport, you can hire a taxi or take a pre-paid taxi to reach New Tehri. The journey from the airport to New Tehri takes around 3-4 hours, depending on the traffic and road conditions.
By Train: The nearest railway station to New Tehri is Rishikesh Railway Station, situated approximately 76 kilometers away. Rishikesh is well-connected to major cities in India. From the railway station, you can hire a taxi or take a bus to reach New Tehri. The road journey from Rishikesh to New Tehri takes around 2-3 hours, depending on the traffic and road conditions.
By Road: New Tehri is well-connected to various cities in Uttarakhand and neighboring states by road. You can either drive to New Tehri in your private vehicle or take a bus. Regular bus services are available from cities like Dehradun, Rishikesh, and Delhi to New Tehri. The road journey offers scenic views of the Himalayas and takes around 3-4 hours from Rishikesh and approximately 7-8 hours from Delhi, depending on the route and traffic conditions.
It is advisable to check the current schedules and availability of flights, trains, and buses before planning your journey to New Tehri. Additionally, road conditions in hilly areas can be challenging, so it's recommended to drive cautiously or hire an experienced driver if you choose to drive yourself.
New Tehri offers a range of accommodation options to suit different budgets and preferences. Here are some suggestions for places to stay in New Tehri:
Hotels and Resorts: There are several hotels and resorts in New Tehri that offer comfortable rooms, amenities, and scenic views of the surroundings. Some popular options include The Terrace, GMVN Tourist Rest House, Hotel Purohit, and Hotel Green Hill.
Floating Huts: For a unique experience, you can consider staying in one of the floating huts on the Tehri Lake. These huts provide a tranquil setting amidst the waters, allowing you to enjoy the serenity of the lake. Floating huts like The Floating Huts Resort offer a memorable stay experience.
Guesthouses and Homestays: If you prefer a more homely and personalized experience, you can opt for guesthouses or homestays in New Tehri. These accommodations provide a chance to interact with the locals and experience their hospitality. Platforms like Airbnb and Booking.com offer a variety of guesthouses and homestays to choose from.
Campsites: New Tehri and its surrounding areas offer several campsites where you can pitch a tent and enjoy a camping experience amidst nature. These campsites provide basic amenities and are ideal for outdoor enthusiasts. Camp Carnival, Camp Kyari, and Himalayan Eco Lodge & Camps are some popular camping options.
When selecting your accommodation, consider factors such as location, amenities, budget, and the type of experience you desire. It is advisable to make advance bookings, especially during the peak tourist seasons, to secure your preferred choice of stay.