Bageshwar, situated at an elevation of 1004 meters above sea level, is a city adorned by the convergence of Saryu and Gomati rivers. It is renowned for its numerous temples dedicated to various Gods and Goddesses, which are located in close proximity to the city. The majestic Bhileshwar and Nileshwar mountains grace the eastern and western sides of Bageshwar, while Suraj Kund and Agni Kund mark the northern and southern boundaries respectively.
Located at a distance of 470 km from New Delhi and 332 km from the State Capital Dehradun, Bageshwar is known for its picturesque beauty, glaciers, rivers, and temples. It serves as the administrative headquarters of Bageshwar district and was once a prominent market for trade between Tibet and Kumaun. Bhotia traders frequented the town, bartering Tibetan wares, wool, salt, and Borax for local produce like carpets.
Bageshwar holds great religious, historic, and political significance. It is mentioned in various puranas, where it is associated with Lord Shiva. The annual Uttarayani fair, once visited by around 15,000 people in the first half of the twentieth century, was the largest fair in the Kumaon division and became the epicenter of the Coolie Begar Movement in January 1921.
According to the Shiva Purana's Manaskhand, Bagnath Temple and the surrounding city were built by Chandeesh, a servant of Lord Shiva. Another Hindu legend states that Sage Markandeya worshiped Lord Shiva in Bageshwar, and Lord Shiva blessed him by appearing in the form of a tiger.
Bageshwar, located in the scenic state of Uttarakhand, India, offers several places of interest for visitors to explore. Some of the main places to visit in Bageshwar include:
Bagnath Temple: This ancient temple dedicated to Lord Shiva is the main religious attraction in Bageshwar. It is believed to have been built by Chandeesh, a servant of Lord Shiva, and is known for its intricate stone carvings and unique architecture. The temple hosts a vibrant annual fair called Uttarayani Mela, which is celebrated in January and draws thousands of devotees.
Baijnath Temple: Located about 20 kilometers from Bageshwar, Baijnath Temple is an important pilgrimage site dedicated to Lord Shiva. It is renowned for its ancient architecture and intricate carvings. The temple is believed to have been constructed in the 12th century and is known for its spiritual significance and serene surroundings.
Kausani: Situated about 37 kilometers from Bageshwar, Kausani is a picturesque hill station known for its breathtaking views of the Himalayan peaks, including Nanda Devi, Trishul, and Panchachuli. It is a popular spot for nature lovers, trekkers, and honeymooners, offering stunning sunrises and sunsets, tea gardens, and scenic walks.
Pindari Glacier: Located about 80 kilometers from Bageshwar, Pindari Glacier is a popular trekking destination for adventure enthusiasts. It is one of the longest glaciers in the Kumaon region and offers mesmerizing views of snow-capped peaks, gushing streams, and lush green meadows.
Sunderdhunga Valley: This picturesque valley is known for its pristine beauty and offers excellent opportunities for trekking and camping. It is famous for its scenic landscapes, dense forests, and panoramic views of snow-capped peaks. The valley is also home to several exotic bird species, making it a paradise for birdwatchers.
Chandika Temple: This ancient temple dedicated to Goddess Chandika is located near Bageshwar and is known for its religious significance and beautiful surroundings. The temple is nestled amidst lush green forests and offers serene vibes for spiritual seekers.
Gauri Udiyar: This natural rock formation located near Bageshwar is believed to be the spot where Goddess Parvati used to take a bath. It is considered a sacred site and offers stunning views of the surrounding mountains and rivers.
Apart from these, Bageshwar also offers opportunities for nature walks, birdwatching, and exploring the local culture and traditions of the region. The serene and picturesque landscapes of Bageshwar make it a perfect destination for those seeking peace, spirituality, and natural beauty.
Bageshwar is well connected by road and can be reached by various modes of transportation. Here are some ways to reach Bageshwar: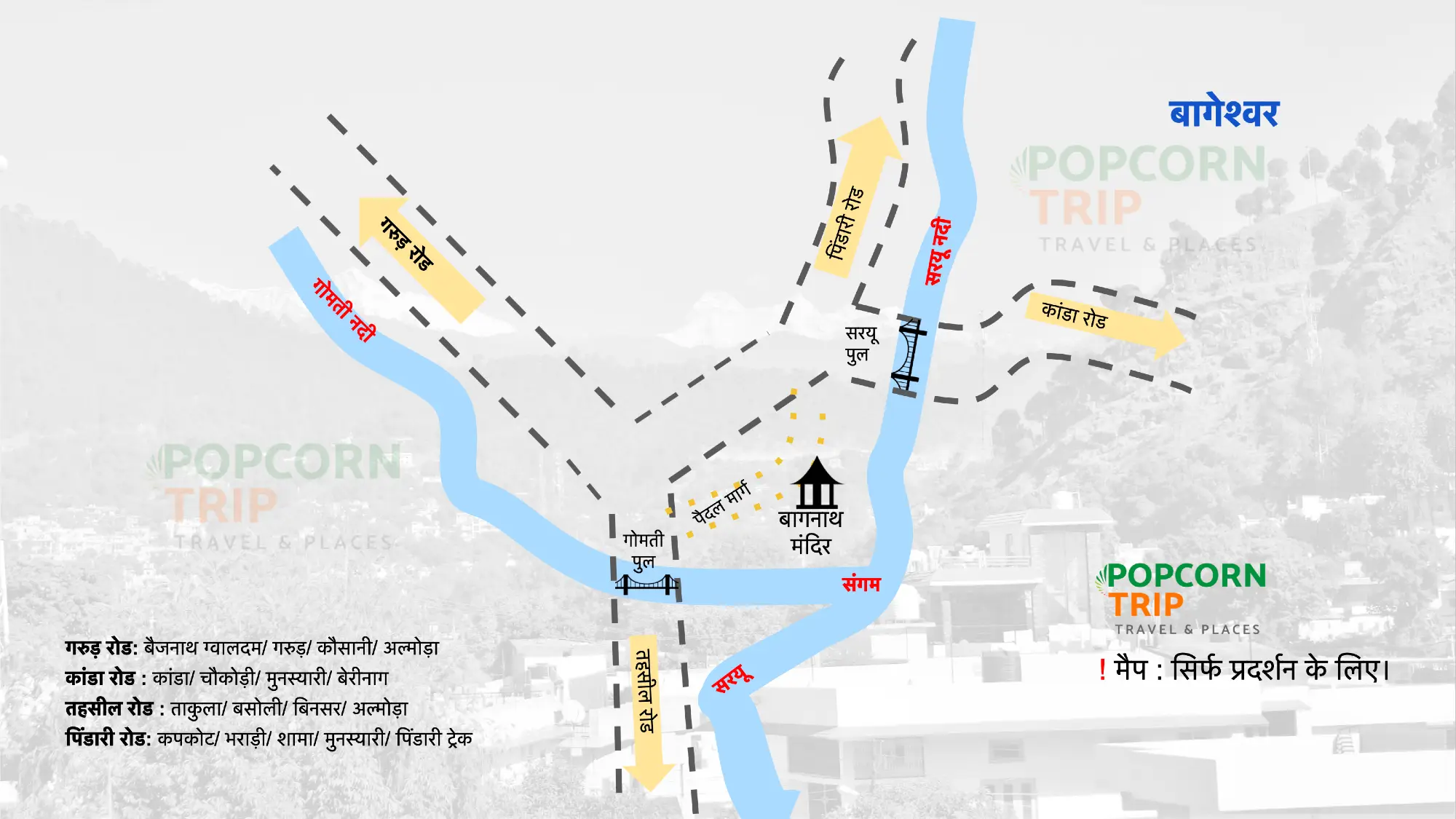 By Air: The nearest airport to Bageshwar is Pantnagar Airport, which is approximately 183 kilometers away. From Pantnagar Airport, one can hire a taxi or take a bus to reach Bageshwar. Pantnagar Airport has regular flights connecting it to major cities in India.
By Train: The nearest railway station to Bageshwar is Kathgodam Railway Station, which is approximately 166 kilometers away. Kathgodam is well connected to major cities in India by regular train services. From Kathgodam, one can hire a taxi or take a bus to reach Bageshwar.
By Road: Bageshwar is well connected by road and can be reached by buses, taxis, or private vehicles.
From Delhi: Bageshwar is approximately 470 kilometers away from Delhi. One can take NH9 from Delhi to Haldwani, and then follow NH109 and NH309A to Bageshwar.
From Dehradun: Bageshwar is approximately 332 kilometers away from Dehradun. One can take NH7 from Dehradun to Haridwar, and then follow NH34 and NH309A to Bageshwar.
From Kathgodam: Bageshwar is approximately 166 kilometers away from Kathgodam. One can take NH109 from Kathgodam to Bageshwar.
It is recommended to check the road conditions and weather before embarking on the journey, especially during the monsoon season or winter months, as the roads in the hilly areas of Uttarakhand can be challenging. Hiring a local taxi or using public transport is a convenient option for reaching Bageshwar and exploring the nearby attractions.