Uttarakhand Celebrities:
Prasoon Joshi
A multi talented personality, Mr. Prasoon Joshi is an Indian lyricist, screenwriter and advertising copywriter. Mr. joshi was born in a well educated middle class family in Almora. His father D. K. Joshi, served as a PCS officer (civil service) and later became Additional Director-Education. Prasoon's mother was a lecturer in Political Science, and also worked for All India Radio for over three decades. Prasoon is married to Aparna, also an advertising professional, and has a daughter Aishaanya. He started his career with Ogilvy & Mather (O&M) Delhi where he worked for 10 years. He joined McCann-Erickson, in early 2002 and became Regional creative director, South and South East Asia in the year 2006.
Nirmal Pandey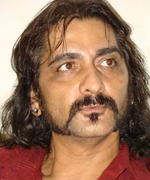 Nirmal Pandey (10 August 1962–18 February 2010) was an Indian Bollywood actor who was known for his role of Vikram Mallah in Shekhar Kapur's Bandit Queen (1994), for portraying a transvestite in Daayraa (1996) for which he won a Best Actor Valenti award in France, Train To Pakistan (1998) and Godmother (1999). He was supposed to watch his latest film Lahore on 22 February 2010 at a special screening with humorist R. K. Laxman and music maestro MM Kreem. It was scheduled to be released on 19 March 2010 and would prove to be Pandey's last film. After leaving the National School of Drama he moved to London, with a theatre group, Tara, performing plays like Heer Ranjha and Antigone, and acting in around 125 plays.




Urvashi Rautela
Urvashi Rautela is an Indian model, beauty queen and Bollywood actress. She won Miss Universe India 2012 and was crowned by former Miss Universe Sushmita Sen. She also won Miss Tourism Queen Of The Year International 2011 in China, Asian Super Model India 2011 in South Korea and Miss Teen India 2009. She is from Kotdwara in Uttarakhand. Rautela attended the New York Film Academy's School of Film and Acting and was granted 100% scholarship for the same. She is also trained in seven dance forms Bharathanatyam, Kathak, Jazz, Ballet, Contemporary, Hip-Hop and Belly Dance and a national level basketball player. She then competed in Miss Tourism International and won the title of "Miss Tourism Queen of The Year.




Hemant Pandey
Hemant Pandey is an India film, theatre and television actor, most known for his role as Pandeyji in TV series, Office Office (2000). Originally from Pithoragarh, Uttarakhand, Hemant Pandey got his first break in Delhi by an NGO called Janmadhyam and Allaripu which is specially for women. Hemant has worked in all fields of acting in theatre, television shows and movies also. He presently working as a character name 'Ghasita' on Imagine TV's 'Neer Bhare Tere Naina Devi'. In which Ghasita is a common villager and like many in his village, he too is burdened by poverty. Being the sole bread-winner of the family, he does not think twice the moment he gets a chance to become rich even at the cost of his daughter Laxmi being exploited.




Himani Shivpuri
Himani Bhatt Shivpuri is an Indian actress, known for her supportive roles in Bollywood films and Hindi soap operas. Shivpuri was born and brought up in Dehradun, Uttrakhand. Her father Haridutt Bhatt was a Hindi teacher[1] at The Doon School, Dehradun, where she received her school education.[2] While she was at school she was actively involved in school plays; while doing her post graduation in Organic Chemistry, her interest grew and she started acting in plays simultaneous to her studies. Eventually she joined National School of Drama, New Delhi and graduated in 1984.Her ancestral village is Bhattwadi, District Rudraprayag, Uttarakhand.