There are many forms and names of Ganga in the Char Dham,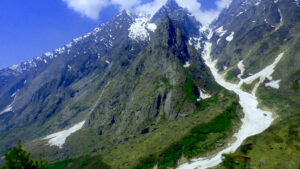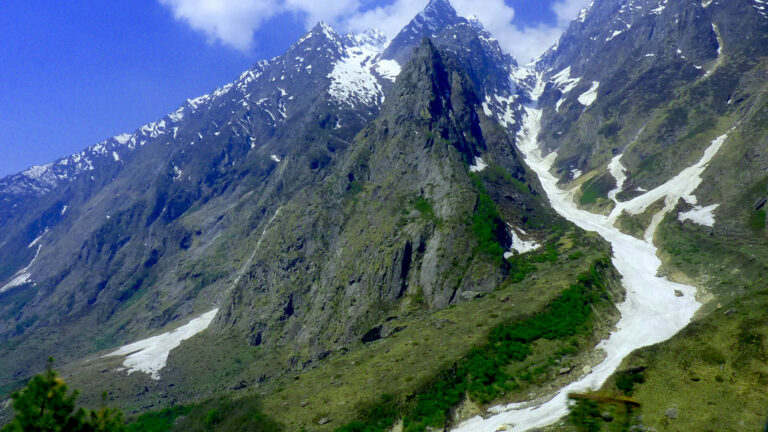 one of which is Alaknanda.  Alaknanda River is a Himalayan river flowing in the state of Uttarakhand, India. It is one of the two rivers that join the Ganges River. It has a holy place in Hinduism. According to hydrologists, Ganga gets more water from Alaknanda than Bhagirathi.Alaknanda river flows through three districts of Uttarakhand namely Chamoli, Rudraprayag and Pauri.
The Ganges is known as Bhagirathi in Gangotri, Mandakini in Kedarnath and Alaknanda in Badrinath.
The Alaknanda originates from the Santopanth and Bhagirath Kharak glaciers in Uttarakhand. This place is called Gangotri.The Alaknanda river flows for about 195 km in the valley, meets the Bhagirathi river at Dev Prayag and is then called the Ganges. Alaknanda Chamoli Rudraprayag passes through Tehri and Pauri districts. Its contribution to the water of the Ganges is more than that of Bhagirathi. Badrinath is a famous pilgrimage site for Hindus on the banks of Alaknanda.
The Alaknanda River is deep, sometimes shallow, with an average depth of 5 feet (1.3 m) and a maximum depth of 14 feet (4.4 m). Alaknanda is very popular for adventure boat sports like river rafting etc.
The tributaries of the Alaknanda which join the Alaknanda at various places.
Keshavprayag:
This place is the confluence of Saraswati and Alaknanda rivers. The Saraswati river originates from the Devtal lake.
---
Badrinath:
It is one of the major Char Dhams of Hindus. Which is in Chamoli district. Here Rishi Ganga meets Alaknanda. The origin of Rishiganga is Neelkanth mountain near Badrinath. Rishiganga is a tributary of the Western Dholi Ganga.
---

Govindghat:
Here Laxmanganga meets Alaknanda; Lakshmanganga originates near Hemkund.
---

Vishnu Prayag:
Where the western Dhauli Ganga meets the Alaknanda. The origin of the Western Dhauliganga is the Kunlag region of the Dhaulagiri range. Alaknanda till Vishnuprayag is known as Vishnuganga. The total length of Dholi Ganga till Vishnuprayag is 94 km.
---

Nand Prayag:
Where Nandakini meets Alaknanda. The origin of the Nandakini river is at a place called Nandghungati situated near the Trishul mountain.
---

Karna Prayag :
Where Pindar River meets Alaknanda. Pindar River originates from Pindari Glacier located in Bageshwar. Another name for Pindar River is Karanganga. The main tributary of Pindar is Atagad. The total length of Pindar river till Karnprayag is 105 km.
---

Rudra Prayag:
Where Mandakini meets Alaknanda. It is the largest tributary of the Alaknanda. It originates from the Mandaranchal range near Kedarnath. The tributaries of Mandakini are Madhuganga, Vasuki/Songanga. The Mandakani river is the only river that joins the Alaknanda from the right side. The total length of Mandakini till Rudraprayag is 72 km.
---

Dev Prayag:
Where Bhagirathi meets Alaknanda. Devprayag is in Tehri district, where the river Alaknanda is called Bahu. The total length of Alaknanda river till Devprayag is 195 km.
---