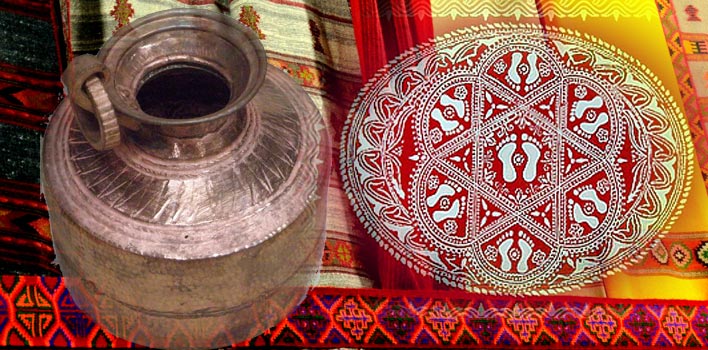 उत्तराखंड सांस्कृतिक विरासत में समृद्ध है, जिसे उत्तराखंड के कला और शिल्प के माध्यम से जीवित रखा गया है। उत्तराखंड के हस्तशिल्प क्षेत्र के पर्यटन उद्योग को और भी वैल्यू जोड़ देता है। उत्तराखंड के प्राचीन मंदिर वास्तुकला, लकड़ी की नक्काशी, चित्रों और पारंपरिक आभूषणों के लिए प्रसिद्ध है। इन कारीगरों में के पारंपरिक कारीगर "टम्टा(स)" (कॉपर स्मिथ) भी शामिल थे, जो अपने हाथ से बने बर्तनों और बांस और अन्य व्यावसायिक लकड़ी से उपयोगी घरेलू सामान बनाने वाले कारीगर थे। उत्तराखंड के शिल्पों में कढ़ाई और दस्तकारी के विभिन्न रूप भी शामिल हैं।
Uttarakhand is rich in cultural heritage, which has been kept alive through the Arts and Crafts of Uttarakhand. The Handicrafts of Uttarakhand has the potential for great value-addition to the tourism industry of the region. Uttarakhand is famous for its temple architecture, wood carvings, paintings and traditional ornaments. Uttarakhand had traditional artisans including "Tamtas" (Copper Smith) well-known for their hand-made utensils, and other artisans making useful household items from Bamboo and other commercial wood. Crafts of Uttarakhand also include various forms of embroidery and handworks.
The people of Uttarakhand have created and nurtured variour forms of arts and crafts since ages. Crafts usually utility items like doors, windows, rugs, carpets, baskets, copper utensils or the folk art Aipan made by Uttarakhandis have a unique touch of nature in their designs. Exquisite woodwork has been the specialty of Uttarakhand since times immemorial. Abundance of timber, the suitable temperature for insulation of wood, availability of local, skilled labour, prevalence of family tradition has contributed to the growth of this craft in this region. Historical evidences also support the presence of intricate wooden carvings in Uttarkahnd. Entire woodworks of 'chaukhats' and 'tibaaris' found here are now on display in the National Museum of Delhi. Utility and decorative items like walking sticks, animal figures, miniature models of famous temples, idols of Gods etc made by Uttarakhand craftsmen have acquired special place.
Apart from that products made of driftwood and pine bark carving are some other beautiful pieces produced by these craftsmen. Owing to its altitudinal placement , Uttarakhand provides climatic conditions most appropriate for animals like sheep, angora rabbits and pashmina goats. This has given it the scope to extract some of the finest quality of wool from these animals. Thus woolen products are a dominant craft in this area. Traditionally woolen crafts were produced in thes regions mainly for local consumption. In the rural and border areas, wool extracted from animals like sheep is used to make products like kaaleen, pankhi , thulma (thick blanket) chutka etc. The designs and techniques used are influenced by the neighbouring Tibet. While Johar-Munisiyari in Pithoragarh district is famous for producing woolen carpets and thulma. Almora has been producing its famous tweeds, woolen carpets and artistic woolen shawls. The other places where this craft has been practiced are Bageshwar, Nainital, Dehradun, Chamoli, Rudraprayag and Uttarkhashi. Candles not only illuminate your houses, they light up your hart as well. Decotrative candles in beautiful shapes and sizes have emerged as the most popular souvenirs of Nainital. Although ordinary candles have always existed as a cottage industry, decorative candles from Nainital started showing up in the marker in the early 70's.
Uttarakhand is also famous for the beautiful paintings that can be found here. Mughal style of painting became very famous in Uttarakhand after it was introduced by Prince Suleman Shikoh, who was a Mughal Prince. About one hundred years later, a famous painter, Mola Ram developed a new style of painting that had a romantic charm. One can also find beautiful poems in the paintings of Mola Ram. He was a very famous personality during those days who was known not only because of his paintings but also because of the poems that he used to write. Dekaras are the clay models of the various Gods and Goddesses in three dimensional forms and are meant solely for worshipping purposes. These idols are prepared out of fine clay mixed with color. They are treated through different hues to make them look more attractive. During the festival of Kartik Sankranti, Lord Shiva's images are made which are known as Dekaras, and these depict the marriage of Shiva with Parvathi, the daughter of Himalaya.