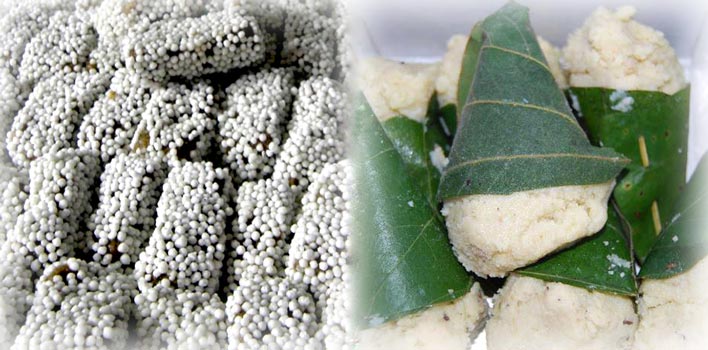 Delicacies : जितनी खुबसूरत Uttarakhand की पहाड़ियाँ है उतना ही स्वादिष्ट होता है पहाड़ी खाना।
Uttarakhand is famous not only for its tourist places and pilgrims but also for its values and culture. The culture and tradition of the state can be seen in its songs, dance and also in its delicious dishes.
Taste the magic of Uttarakhand recipes. The traditional cuisine of Uttarakhand is highly nutritious, simple to prepare and at the same time appealing to the palate. Several of recipes are special to specific occasions or festivals. To mark the welcome of a guest or relative, PURI and SHINGALS are generally served with Aalo ke Gutke.
These dishes and recipes along with richness in its taste are highly nutritious. The recipes to these dishes are simple too to prepare.
Some of these Pahari dishes & Sweets are as follows:
Aloo ke Gutke
Aloo Tamatar ka Jhol
Masoor ki dal
Baadi
Bhatt ki Chunkani
Mugaudi
Bhang ki Chutney
Chainsoo
Gahat Soup
Gahat Ki Dal
Jhangore ki Kheer
Jholi
Kaapa
Kafuli
Lesu
Mandua Ki Roti
Rus
Sana Hua Mooli and Nimbu
Sisun ka Saag
Til ki Chutney
Urad Dal ke Pakore
Bal Mithai
Singori[/column]
Few of the available recipes :
Jhangora ki Kheer:
Brief Description
Jhangora is a cereal that is only found in Uttrakhand hills. Being sweet in taste it is a favorite dish if localities. It is prepared with milk, sugar, dry fruits and Jhangora.
Ingredients: Jhangora 500 Gms.. Sugar 200 Gms.. Milk 2 litters, Cashewnuts 50 Gms.. , Raisins 50 Gms., Chironji 100 Gms.. , Kewara essence (As required).
Method:
Boil Milk in a thick-bottomed pan.
Add Jhangora and cook it properly. Stir to avoid sticking.
Add sugar and cook for some time.
Add Kewara essence and mix well.
The dish is ready.
Serve when cool.
Garnish with chopped Dry Fruits.
---
Bal Mithai:
It is a very popular sweet dish of this fascinating region. It is high on taste as well as nutritious. It is a favorite dish and like by everyone.
Ingredients:
Khoya 1 Kg. Sugar 400 Gms. White Sugar balls 100 Gms.
Method:
Cook Khoya in thick-bottomed pan on slow fire till its color changes to dark brown.
Stir it continuously and add sugar till it is thick in consistency.
After being cook properly pour it in greased tray.
Let it cool and cut into rectangle pieces.
Garnish with sugar balls and your mouthwatering BAL Mithai is ready to serve.
---
Singori:
Another testy sweet which is a specialty of Kumaon and is prepared from Khoya (Condensed Milk) and coconut. A special feature of this sweet is that is requires a leaf named 'Molu" which is found in the hills of Uttrakhand.
Ingredients:
Khoya 1 Kg, Sugar 300 Gms, Grated Coconut 200 Gms, Green Cardamom 1 Gms, Molu leaf according to requirement.
Method:
Cook Khoya in thick-bottomed pan on slow fire. Stir it continuously it should be noted that the color of the Khoya should not change.
Add sugar and grated coconut and crushed green cardamom and mix well.
Keep the cooked Khoya in small portion on the leaf and wrap up the leaf like cone.
Let it cool. Garnish with dry fruits and rose Patel. Singodis are ready to serve
---
Singal:
It is a high calorie sweet. Its specially is that it is only prepared during festivals. It is local sweet snack. Banana is also used in this dish.
Ingredients:
Semolina (Suji) 300 Kg, Curd 150 Gms, Butter or Ghee 50 Gms, Fat or Oil 200 ml, Banana 2 nos.
Method:
Take 300 Gms. Semolina and beat it with Ghee or butter.
Mash banana in the mixture.
In a separate container beat curd and add sugar.
Finally add curd and sugar in the semolina mixture. Leave it aside for 2 to 3 hours to gain consistency.
Fill the mixture in a piping bag.
Heat the oil in pan press the filling bag and try to make round shape like jalebi.
Fry in a low heat till golden brown.
Garnish with icing sugar. Singals are ready to serve. It can be serve hot or cool with yogurt shake or flavored icy cool milk.
---
Different Type of Breads
Mandua ki Roti:
It is a Chappati made of Mandua Flour, which is a local cereal and very high in fiber which makes it very nutritious.
Ingredients:
Mandua Flour 600 GMS. (This is a special type of cereal available only in Garhawal and Kumaon Region), Wheat Flour 200GMS. Water as required.
Method:
Mix Mandua flour and Wheat Flour well
Prepare stiff dough with water.
Divided into even sized balls and roll out into Chappaties (Like Pizza or Pitta)
Heat the griddle and Cook Chappati both sides on the fire.
Ensure that the Chappaties have been cooked well.
Serve with flavored milk or any other milk Shake and lots of White Butter, Ghee (clarified butter) or Craft Cheese.
Lesu:
This is a local preparation, which is served in Breakfast, Lunch or Dinner. This bread is eaten with a lot of Butter or Ghee. It can also be eaten with Curd and Mango Pickle or Mixed Pickle.
Ingredients:
Wheat Flour 1/2 Kegs, Mandua Flour 300 GMS. (This is a special type of cereal available only in Garhawal and Kumaon Region), Ajwain 1 GMS. 1/2Tsp.
Method:
Knead Wheat Flour and Keep aside.
Mix Ajwain and Salt into Mandua Flour and knead. Keep it aside.
Make a ball of wheat Flour dough and stuff with Mandua Flour dough.
Roll into a Chappati (like Pizza or Pitta) and cook on a griddle.
Serve with lots of butter or Ghee (purified Butter), or Craft Cheese.
---
APPETIZER
Kumaoni Raita:
Raita in Kumaon is prepared in a very special way unlike Raita' made in other parts. It is mainly served at lunchtime and highly enriched with cucumber, mustard seeds, green chilies, coriander etc.
Ingredients:
Cucumber 1Kg, Curd 1 Kg. Mustard seeds 10 GMS. Turmeric powder 1Tsp., chopped green chilies 5-6, chopped green coriander 1/2 bunch.
Method:
Beat curds till fluffy.
Peel and grate cucumber water should be squeezed from the grated cucumber.
Add cucumber to the curd with turmeric powder.
Add grinned mustard seeds, chopped chilies green chopped coriander and salt to the above mix.
Keep aside for 3 – 4 hours to enhance the mustard flavor.
Spread some coriander leaves while serving.
---
Sani Hui Mooli and Nimbu. (Radish and Lemon with Spices):
Wow! Mouth waters the moment you have a flavor of this refreshing and tempting mixture of radish, lemon, curd and paste of bhang seeds. It is usually eaten during winter seasons.
Ingredients: Radish 400 Gms, Garlic 5 flakes, Green chilies 10, lemon 1, salt to taste, curd 250 Gms. Roasted Bhang seeds 50 Gms. Sugar 60 Gms.
Method:
Prepare batons of 2″ in length of peeled and properly washed radish.
Grind garlic, roasted bhang seeds, green chilies together.
Take out the lemon segments.
Mix the paste well and toss radish in it and the lemon segments.
Add curd, salt, sugar and mix well.
Its ready to serve garnish with coriander leaves.
---
Bhaang Ki Khatai (Sour Chutney):
This is very tasty sour Chutney, which is served with snacks and is also eaten with certain meals.
Ingredients:
Bhaang seeds 50 Gms., Cumin powder 3 Gms.. Lemon big, Salt to Taste, Whole Red Chilies three.
Method:
Roast Bhaang Seeds and Cumin Seeds separately.
Grind Red Chilies, Cumin Seeds and Bhaang seeds into a fine paste, adding very little Water.
Add the Required amount of Salt in the Chutney and mix well.
Pour some Lemon Juice on the Chutney and serve, garnished with Mustard Seeds Fried in Spoonful Mustard Oil.
---
Mixed Dal Salad:
Mixed Dal salad is taken as an appetizer. It is very delicious and nutritious too. It is serve before meals as it enhance hungry.
Ingredients:
Whole Dal 300 GMS; Ginger 100 GMS; Green coriander 1/2 Bunch, Green Chilies 4-5, Onions 150 Gms. Radish 200 Gms. Salt to taste and mango powder 1-2Tsp.
Method:
Boil Dal and drain excess water.
Chop ginger, garlic, tomatoes, radish, green chilies, green coriander and add into boiled Dal.
Add salt and mango powder.
Garnish with chopped tomatoes and green coriander. It is ready to serve.
---
Some Green Vegetables
Sisunak Saag:
Sisunak saag is enhanced by high nutritious value. The leaves from where this saag is prepared are locally known as "Bichhu Ghas". It is a green leafy vegetables dish and is liked by everyone.
Ingredients:
Sisunak 2 Kg, Jakhiya 50 gm., (salt to taste.) fat/oil 30 ml.
Method:
Take small leaves of Kandalee, boil them in water and cook well, till the leaves become pulpy.
Drain the water and grind it.
Heat oil in a thick-bottomed pan adds Jakhiya stirs well add the saag and fry. Add salt.
Garnish with tomato and butter. Serve hot with boiled rice.
---
Kaapa:
This is a green curry that is served in lunch or dinner and is eaten with Bread, Pita, Roti & Boiled Rice. This is a dish, which is very sumptuous as well as nutritious since it is a special preparation of Spinach.
Ingredients:
Spinach1 Kg. Curd 300 gms. Chilly Powder 50 Gms. , Turmeric Powder 20 Gms. , Hot Spices 50 Gms. , Cumin Seeds 20gms. , Asafetida (Pinch), Butter 50 Gms. , Salt to Taste, Rice Paste 20 Gms.
Method:
Wash the Spinach and chop it roughly and boil.
Heat the Butter, add cumin seeds and Asafetida.
When seeds crackle, add Chilly Powder and Turmeric Powder.
Fry the spices well.
Add boiled spinach and cook a little.
Add Beaten Curd and required amount of Water and thicken with Rice Paste.
Cook well, Add Salt and Hot Spices and serve.
Rice paste can be prepared by soaking the rice in plain water for about 3 hrs. and then grinding it in a Grinder to form a smooth Paste. Mix enough water so as to make a thick Paste.
---
Some Potato (Alu) Dishes
Alu ke Gutke
Brief Description
Alu ke gutke is a typical Kumaon snacks and is enjoyed by all. The most exciting thing of this dish is the way of serving. Red fried chilies, coriander leaves and some time with tomatoes garnish it also. It is very spicy.
Ingredients:
Potatoes 1 Kg, Cumin powder 1/2-tsp. Coriander powder 2-tsp. Turmeric 1-tsp.
Red chilly powder 1 -tsp. Whole red chilies 5 Gms. Fat/oil 50 Gms. Green coriander 2-bunches. Salt to taste.
Method:
Boil the potatoes, peel and cut into small pieces.
Fry the red chilies in some oil.
Add cumin seeds into oil and add turmeric powder.
Add potato pieces, coriander, chilly powder, and salt.
Cook on slow heat.
Garnish with chopped green coriander and fried red chilies. Serve hot with Mandua bread and glass of flavored milk.
Alu Daal Pakora (Potato and Pules Dumplings):
Alu Daal Pakora is served as a snack and is one of the favorite snacks of the locality of the Kumaon. It is served with chutney or tomato ketchup. It is an innovative food of Kumaon.
Ingredients:
Boiled Potatoes 25 Gms. Ginger 5 Gms. Onions 100 GMS. Hot spices 1-tsp. Garlic 5-6 flakes lemon 1, Coriander leaves bunch. 2-tsp. Green chilies 3-4 powder 1 -tsp. Egg 1, Fat/oil for deep frying 300ml, boiled mix Dal (pulse) 100 Gms. Bread crumbs 100 Gms.
Method:
Peel and mash potatoes add salt and half of lemon.
Chop onions, ginger, chilies and coriander leaves. Mix it with Dal. Add lemon juice shot spice.
Flatten the potatoes and stuff the Dal mixture.
Make a cylindrical role and dip in beaten egg white. Coat it with breadcrumbs, deep fry in oil.
Served hot with chutney or tomato Ketchup.
---
Wada Black Gram (Dumplings):
Wadas are pakoras (Dumplings) prepared with different Dals. It can be served along with chutney or ketchup.
Ingredients:
Urad Dal (black Gram) 500 Gms. Turmeric powder 1/2 -tsp. Salt to taste, hot spices 1/2 -tsp. Green Coriander leaves 1/2 bunch. Oil/fat for frying.
Asafetida a pinch.
Method:
Soak Urad Dal overnight.
Drain away the water and grind it in a mixer to a fine paste.
Add turmeric powder, hot spices, asafetida and salt.
Mix well and add chopped coriander leaves.
Make small balls by applying water on palms, flatten the balls and make a hole in the center.
Deep fry till brown and crisp.
Serve hot with chutney or tomato ketchup.
Served hot with chutney or tomato Ketchup.
---
Dishes of various ingredients
Rus
Rus is a typical delicacy of Kumaon. It consists of a number of Dals. It gives the tasty flavor of every ingredient used and is a favorite dish of Kumaon people.
Ingredients:
Bhatt 50 Gms. Gahat 50 Gms.. Rajma (kidney Beans) 50 Gms.. Channa (Gram) 50 Gms. Urad 50 Gms rice 30 Gms. Ginger 30 Gms. Cumin seeds 1 Tsp. Cloves 5-6, Garlic 5-6 flakes, black pepper 1 1/2 tsp. Hot spices 1/2 Tsp. Green coriander 1/2 a bunch. Salt to taste.
Method:
Soak the Dals overnight and boil in plenty of water.
Soaks rice overnight and grind it into fine paste.
Grind ginger, garlic, cumin seeds, cloves, and black pepper into paste.
Heats oil in a pan and add paste. Fry till becomes light brown.
Add Dal extract in the pan cook well after some time add rice paste for thicken.
Cook for 10-15 minutes. Add hot spices.
Garnish with chopped coriander.
Served hot with chutney, boiled rice and Mandua beard with lots of butter or Ghee.
---
Gahat Ki Dal:
This is commonly prepared in every house in Kumaon. It is like curry and taken with rice.
Ingredients:
Gahat 300 Gms. Rice 50 Gms. Ginger 20 Gms. Fat 50 Gms. Turmeric 1-tsp. Cumin seeds 1/2-Tsp. Garlic 4-5 flack. Gandherin small piece.
Method:
Boil Dal. Chopped ginger and garlic and add turmeric powder, salt, coriander, chili powder, in Dal. Also add chopped garlic and ginger.
Add rice paste and cook for some time.
Sauté with cumin powder, asafetida and Gandherin.
Garnish with green coriander leaves, butter or cheese, slices of tomatoes. Serve with hot boiled rice and Mandua ki Roti with lots of white butter.